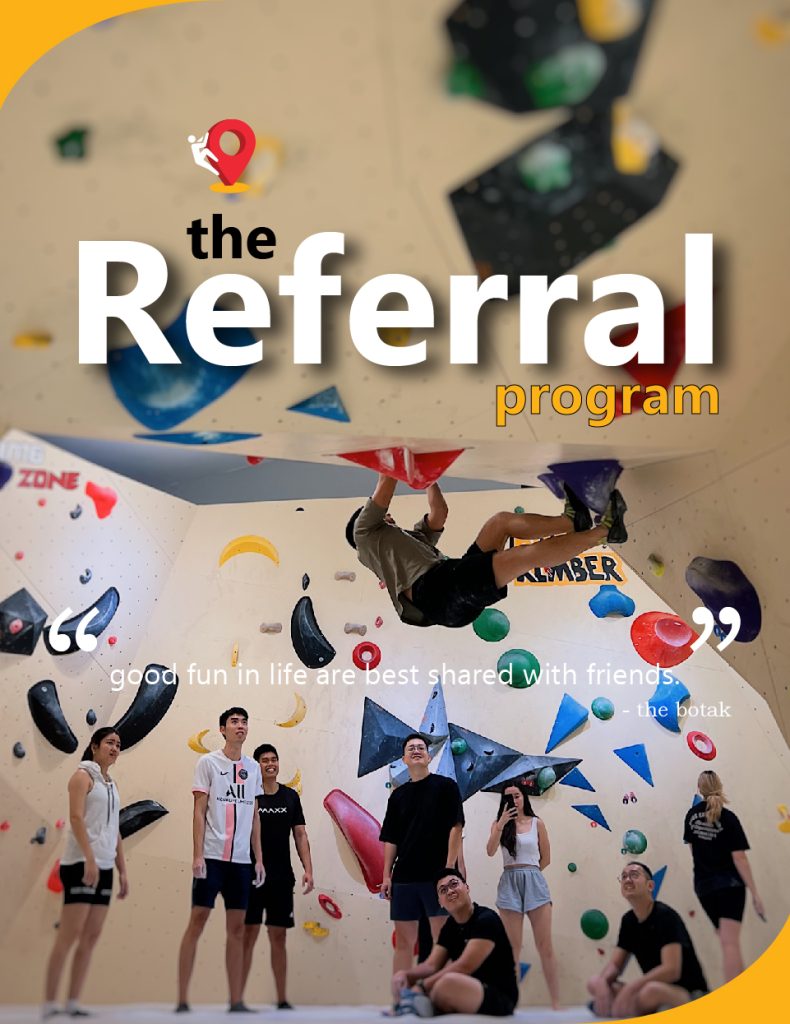 FREE FREE FREE!!
Yes! Get rewarded with absolutely FREE membership and/or entry passes when you bring your buddies over to #Klimbzone via our Referral Program!
How it works:
You get awarded with klimb points (KP) when any person you introduce purchase either Klimb FIVE, Klimb TEN, Klimb Addict, Klimb Junkie or Klimb Fanatic.
The accumulated klimb points can then be redeemed for free entry passes or membership.
Points Awarded as follows:
5 KP – Klimb FIVE
10 KP – Klimb TEN
10 KP – Klimb Addict
30 KP – Klimb Junkie
60 KP – Klimb Fanatic
Rewards:
50 KP – FREE Klimb Addict
60 KP – FREE Klimb TEN
Get in touch with our friendly Krew for more deets!!
Terms & conditions:
This referral program (program) is open to all registered member of KlimbZone (KZ).
Registered member refer to a person who has already signed up in our system base on their unique NRIC / passport number.
Klimb points are awarded to a registered member for introducing NEW SIGN UPS who purchase Klimb five, ten, addict, junkie & fanatic only.
Klimb points are NOT awarded for subsequent renewals of klimb addict, junkie or fanatic.
Klimb points are NOT awarded for subsequent repurchase of klimb five or ten.
KZ reserve the right to vary or change the mechanics of this program at any time including and not limited to the klimb points awarded & redemption rewards.
KZ reserve the right to terminate this program at anytime.
Staff of KZ and their immediate families are not eligible to participate in this program.